ABOUT THIS PROJECT
Luckett & Farley developed a comprehensive program for the School of Dentistry Renewal Master Plan. This fast track project was a $43 million renovation of the 34-year-old, 200,000 SF teaching, clinical, and research facility located on the Health Sciences Campus. The newly modernized facility educates and trains dental students on the latest clinical procedures.
Some of the operational objectives for the modernization were to increase the class size from 80 to 120 DMD students and decentralize many of the support functions in order to increase efficiency. A total of 380 chairs are located throughout the following clinics:
Endodontics
Periodontics
Orthodontics
Pedodontics
Radiology
Oral surgery
Dental hygiene
Restorative
General dentistry
Simulation clinic
Luckett & Farley also provided mechanical, electrical, and other infrastructure upgrades to the 20 research labs within the facility. These research facilities include animal testing spaces. Many high profile, national dental research programs operate within these research laboratories.
The facility modernization included expanded modular comprehensive care clinics, updated equipment, and extensive infrastructure upgrades. The new addition on the east façade features the main lobby and clinical waiting areas, administrative support functions, as well as graduate conference rooms. The addition also functions as the new "front door" with a signature image that allows access to natural day light and balances the distinctive concrete structures that surround it.
This building is certified LEED Silver. The project was designed using Building Information Modeling utilizing architecture, MEP, and structural engineering in-house by Luckett & Farley in cooperation with design consultant Odell Associates, Inc.
Awards
2011 Cornerstone Award
2011 AGC Build Kentucky Award
2012 MediStar Facility Design Award Finalist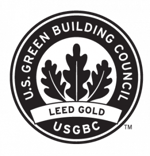 "The design team at Luckett & Farley have helped translate our vision into a reality. In order to maintain our day-to-day operations, the design, scheduling and phasing required the team's utmost attention. The school's clinical, academic and research functions were able to continue throughout construction of the 230,000 SF renovation and addition. Luckett & Farley have provided the latest in sustainability expertise to help us achieve our goal of LEED certification. With our new facility, we hope to attract the best faculty and students, and improve the oral health of the community.
We applaud Luckett & Farley for implementing a complex project very efficiently and smoothly."
Dr. John Sauk Dean
School of Dentistry, University of Louisville