ABOUT THIS PROJECT
This project is the first task on an Indefinite Quantity/Indefinite Delivery (IDIQ) contract to provide consolidated battalion and brigade headquarters facilities for the Southwestern Region of the Sacramento District U. S. Army Corps of Engineers. This task order provides a Combat Aviation Brigade, Brigade Headquarters, and Battalion Headquarters facility for Biggs Army Airfield in Ft. Bliss, Texas.
The contract included comprehensive interior design for furnishings to be purchased under a separate contract. The project included headquarters facilities for one large and four medium battalions. The headquarters portion of this facility is comprised of administrative and special functions components. The secure section consists of the Brigade Operations Center (BOC), the Sensitive Compartmented Information Facility (SCIF), and the Network Operations Center (NOC). The SCIF area was designed and constructed to meet criteria specified in Director of Central Intelligence Directive 6/9. Provisions were made to accommodate SIPRNET as well as NIPRNET communications.
The Battalion Headquarters facilities are comprised of administrative, secure document storage areas, special functions, and training classroom components.
The exterior architecture was developed through the charrette process to reflect the architectural intent of Biggs Army Airfield Design Guide. The Brigade/Battalion Headquarters (BDE/BN HQ) is designed to be the most impressive and monumental structure within the visual hierarchy at Biggs Army Airfield. The facility was designed to meet applicable anti-terrorism/force protection measures in compliance with Uniform Facilities Criteria 4-010-01.
The design and energy saving features of the BDE/BN HQ contribute to the project goal to meet the criteria for a LEED Silver certification. Applicable LEED templates were completed and submitted to a third party reviewer for verification of compliance. The design exceeded ASHRAE 90.1, 2005 baseline building by 30%.
This facility is LEED Silver certified.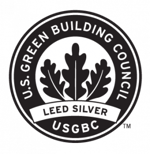 "L&F demonstrated extreme flexibility and technical acumen meeting changing stakeholder needs in their prompt and efficient adaptation of MILCON Transformation standard design for a combined Brigade/Battalion Head Quarters facility; thus exceeding Army expectations in the final design of the Combat Aviation Brigade HQ Facility at Ft. Bliss, Texas."
Duane Balch
Project Manager, Ft. Bliss