As vaccinations become readily available in most areas and restrictions are being lifted, many organizations—ourselves included—are still finalizing the details on what work life will be like post-pandemic.
To help our community discern the next steps that are best for them, we invited local business leaders to join a panel discussion around this topic. Listening to each other to learn about each other's successes, struggles, concerns, and opportunities will give all of us a better idea of how to move forward in a way that's better than the pre-pandemic status quo and cognizant of ways life has permanently changed during this past year.
An opportunity to get it right
"Do not be intimidated. This is an incredible opportunity to refocus and reframe to improve your performance and happiness. Everyone is in the same boat learning this and figuring out what's right for their company."

— Tony Ellis, General Counsel for the Kentucky Cabinet for Economic Development
While many of us have rightly mourned a year with many canceled activities and traditions, it's worth taking this moment to consider which components continue to play an important role in the work experience and which are merely habit. The consensus is that everyone is eager to get back to normal, but we must be open to the reality that some things worked better during the pandemic.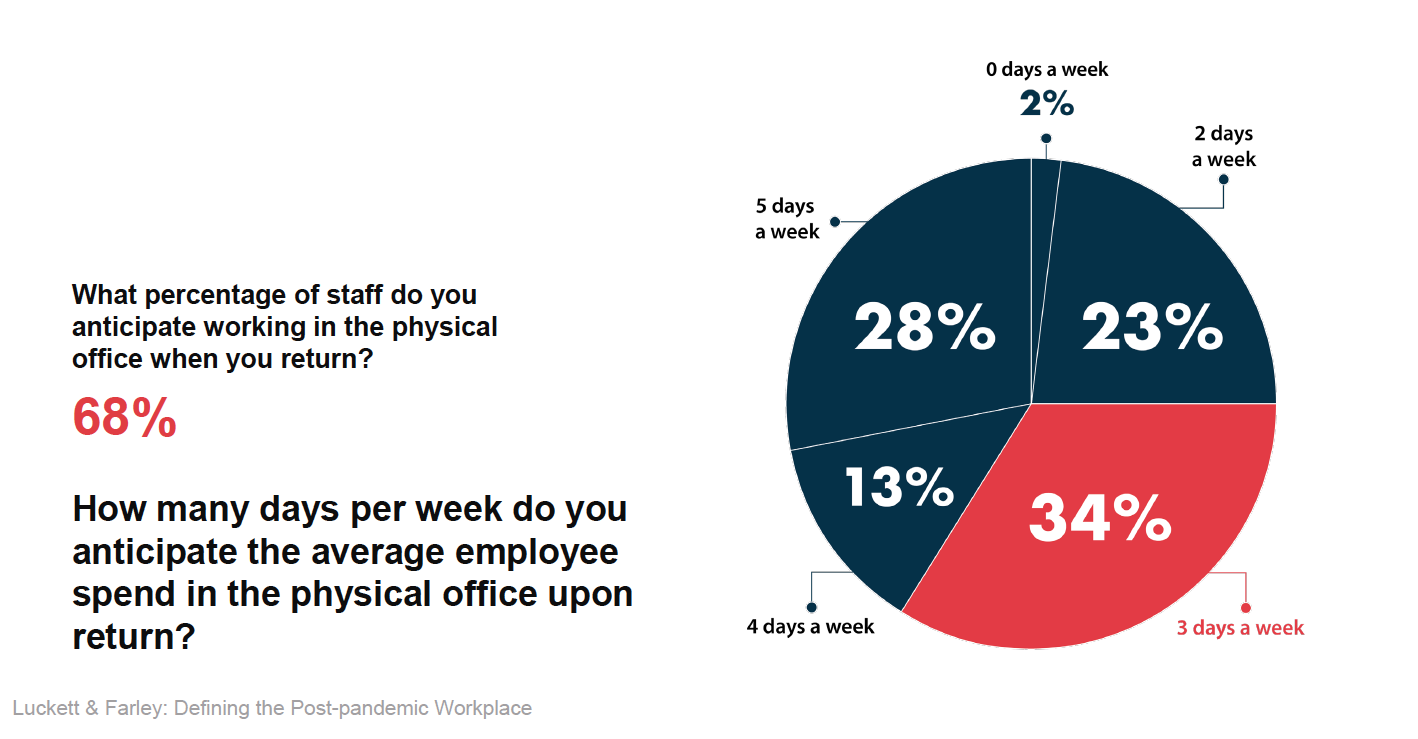 According to our research, respondents expect only about 68% of their team to return to the office, and over half of them plan to continue working from home 2–3 days per week. Employers and employees have a lot to gain from a hybrid model, but it will be an adjustment in policies, expectations, and the office environment.
Our expert panel expressed the need to be flexible and to not rush any major decisions. The decisions we made in March 2020 were immediate. With little notice, many of us were working from home, learning new programs to connect, and several were also guiding children through a similar transition with school. The return to the office doesn't have to happen so quickly. Experiment, listen to feedback, and experiment some more to make decisions that are right for your team as individuals and as a collective.
Places with purpose
"I think this is the opportunity to really consider place as a tool in the culture of the organization."

— Brian Zuercher, CEO and Cofounder for Hopewell (now Align)
Many of us have grown quite familiar with working from home, meetings over Zoom, and various online communication platforms. While we've discovered the office isn't required for work to happen, we've learned it's very beneficial. We have a better understanding of the roles we need office spaces to fill and the essential role physical spaces play in the cultural fabric.
In the past some might have looked at office planning as simply an equation to solve: X workers x Y cubicles = Z square feet. But the power of physical environments to inspire, promote collaboration, and enhance focus can't be quantified so simply. Offices play an irreplaceable role in corporate social dynamics and improved collaboration, and we're likely to see the emphasis placed on that for future office designs and renovations.
Flexibility for the long haul
"I think developing an approach that responds to fresh disruption should be part of ongoing business strategy, because the end of our current pandemic won't mean the end of disruption."

— Lejla Bilal, Co-founder at Transform•Ed Collaborative
While COVID-19 brought about quick shifts in human behavior and our interactions with the built environment, employee needs are always evolving and employers are working to keep their spaces aligned with expectations. Designing flexible spaces has always been valuable, allowing organizations to pivot their spaces as needed and go longer between extensive renovations. As we start to breathe easier on the other side of this pandemic, there's no reason to expect we won't see more great disruptions in the future. The flexibility with which we respond now can only benefit us down the line.
There's a lot of pressure in this moment to get the next step right for the health and safety of our office and the whole community. To best inform these next steps we need to pause and reflect so we can implement what we've learned this past year — through the stress, inconvenience, and grief — as a real opportunity to progress forward.
It should be about the people
"One of the things that we've learned is that people want to connect with other people. And while the technology is great, ultimately, it hasn't replaced in-person connections."

– Douglas Edwards, Senior Vice President of Workplace Experience for Humana
Technology has filled so many gaps for us this year. Can we work completely remotely? In many cases, yes. But the need to have moments physically together sharing the same space persists, whether that's to celebrate, collaborate, or commiserate. The balance all organizations are working to strike is how to continue or re-ignite a vibrant company culture while still making space for some of the flexibility people have come to expect and enjoy after this year.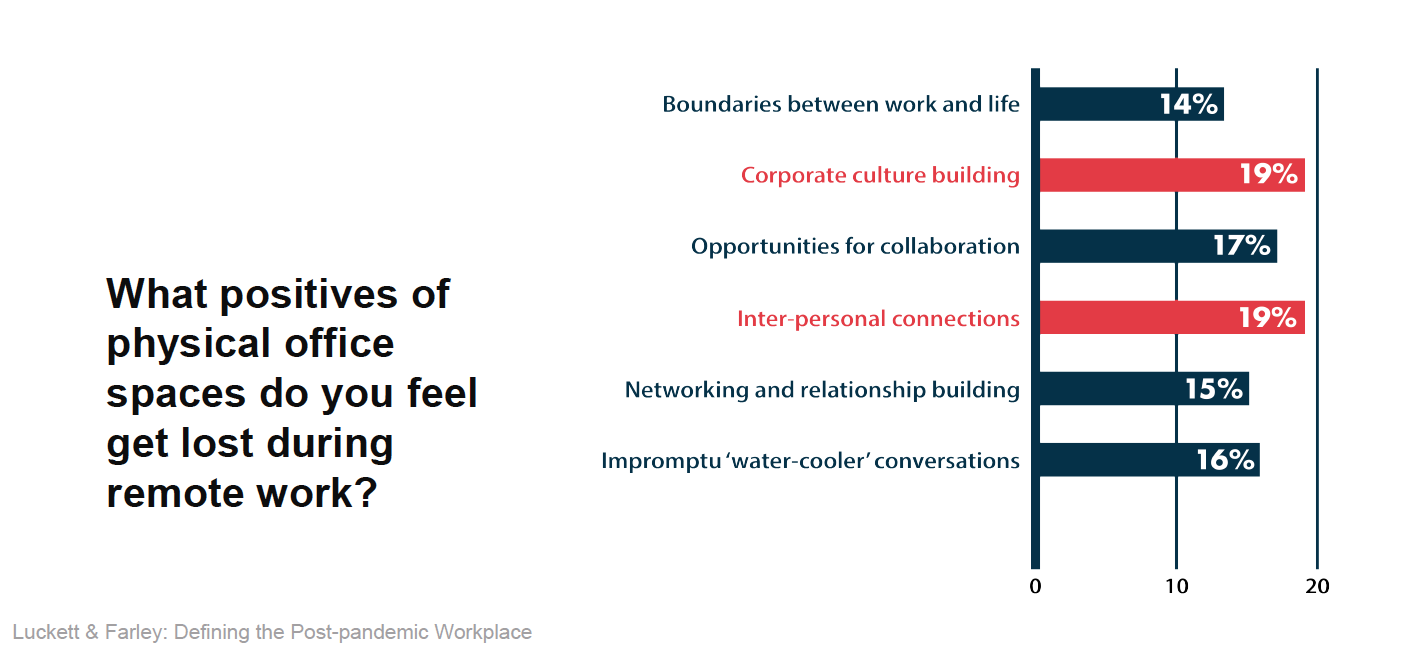 According to our survey, the positives of office spaces that employees felt got lost during the pandemic are the opportunities for corporate culture building and interpersonal connections. These might not seem critical to bottom lines during a tight economy, but studies show "people with supportive coworkers have more work/life balance and are less stressed; that strong personal ties increase information- and idea-sharing, self-confidence, and learning; and that those who have close friends at work are more efficient in and satisfied with their jobs."
Employees are demanding the flexibility from the pandemic become permanent company policy, but they're also missing out on the social benefits and engaging company culture they experienced in-person. The companies that are able to create a flexible and engaging work environment, no matter where their team logs in from, will be poised to attract top talent.
As our recent panel discussions have discovered, coming together, listening, learning from each other, and collaboration will be crucial as we launch a new path forward. The recording of our panel discussions about the post-pandemic workplace is available now. We hope it sparks some ideas and helps shape your discussions as you make decisions for yourself and your company in the coming months.