Luckett & Farley is moving its headquarters one door down.
The 163-year-old Louisville architecture firm will retain space in its current headquarters at 737 S. Third St., but next year, the company plans to move its roughly 100 employees into a building at Third and York streets, 741-749 S. Third St.
Luckett & Farley bought the former automotive shop and dealership building for $1.5 million to help with city-led efforts to revive the SoBro, or South of Broadway, district. The architecture firm is transforming the formerly empty property at Third and York streets into a mixed-use development that will include its own offices and an art gallery called Maker's Crucible.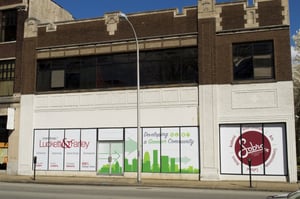 The company also is looking to lease out additional retail and office space at the Third and York building and its current headquarters. At the top of the list is a restaurant; Luckett & Farley is interviewing potential restaurateurs, so keep an ear out for possible updates.
"We are looking for tenants that enhance our work environment but also enhance the SoBro corridor," said Aric Andrew, senior vice president and director of higher education at Luckett & Farley.
With some funding from Republic Bank & Trust Co., the company will invest another $5.1 million to create the new Luckett & Farley offices, according to Tim Pitcher, president of Luckett & Farley Development.
"We wanted to develop a space that is a better reflection of our firm in regard to innovation," he said.
Luckett & Farley's current offices don't fit the demands of the modern workplace or employees, Andrew said.
Employees often want to work from home or from a coffee shop, and "we want to make an office environment that will make them want to be there," Andrew said.
The new headquarters will include "flexible" work spaces, including a lounge area, various-sized meeting rooms, standing and sitting desks, a space with bar chairs where employees can sit and drink coffee, and technology-focused spaces.
"Different people work in different ways," said Andrew, who Tuesday was flying to Michigan to find furniture for the new office.
The Third and York building offers Luckett & Farley more versatility when building out its new offices because the floors are open space with no pillars cutting up the structure. It also has three skylights that provide an abundance of natural light, he said.
Although all Luckett & Farley's employees will move next year into the new space, the company will reserve square footage in its current headquarters for future expansion. They will renovate the headquarters and place some employees in offices there as needed, Andrew said. Altogether, Luckett & Farley will occupy, or at least hold, 50,000 square feet between the two properties.
The construction timeline is "a moving target," but the company hopes to get work underway in the summer and move in after the first of the year, he said.
Luckett & Farley also will transform part of its current headquarters into 800-square-foot to 1,000-square-foot studio apartments for its architecture interns. The apartments will be completely furnished, and the company will roll them into its intern compensation package.
The move will make Luckett & Farley more competitive compared to other internship programs, Andrew said, as well as help out interns who may be traveling to Louisville from far away. The interns will have prime housing close to work and to Louisville's many restaurants and attractions.
"We feel like this will really enhance our ability to recruit."