Originally published in Insider Louisville on May 24, 2017.
In college classrooms and dormitories across Kentucky and throughout the United States, the spaces where students learn, live and grow continue to evolve.
Campus structures have to be planned and designed in a way that's responsive to rapidly emerging trends and technologies, changes in academic methodology (such as more project-based or experiential learning) and an increasing need for adaptive and sustainable spaces — especially when student housing is concerned.
One group helping to implement many of these cutting-edge changes to higher-ed campuses in Kentucky and Indiana is the team of architects, engineers, interior designers and developers at Louisville's Luckett & Farley.
The architect firm is one of the oldest in the country, with humble beginnings that date back to 1853. Aric Andrew is president and CEO of Luckett & Farley and director of the higher-education market of the company. He explains why the higher education market is so important to Luckett & Farley.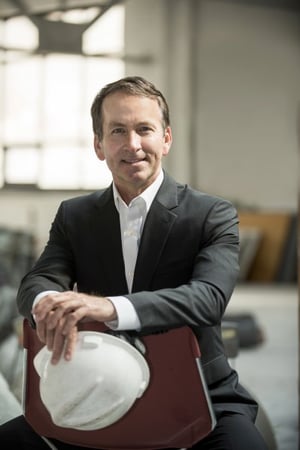 "Education is the key to the success of a community. What we're doing for these institutions is gratifying because they're training the workforce."
One example of this is the work they've done for JCTC (Jefferson Community and Technical College). JCTC offers traditional on-campus programs but they also work with businesses such as Ford and UPS to provide customized training programs to employees. Luckett & Farley is in the process of renovating the JCTC building at Second and Broadway to accommodate student housing, student services and a college bookstore. By the time they're finished, the building will serve as a one-stop shop for many JCTC students and faculty.
Berea College
The most recent focus for Luckett & Farley is work they've been doing for Berea College. Berea College, founded just after Luckett & Farley in 1885, is one of the country's leading private liberal arts colleges. With rigorous academic programs and a commitment to providing tuition scholarships worth nearly $100,000 over four years to each student, the college has long been at the forefront of economically and environmentally sustainable efforts.
Andrew says one way this shows is in the campus's current renovation plans. Luckett & Farley has just finished work on two student housing renovation projects. They finished Dana Hall in the fall of 2015 and Bingham Hall in the fall of 2016.
The challenge with projects at Berea is the need to modernize the living and learning environment while maintaining the neo-Colonial architecture the campus is known for.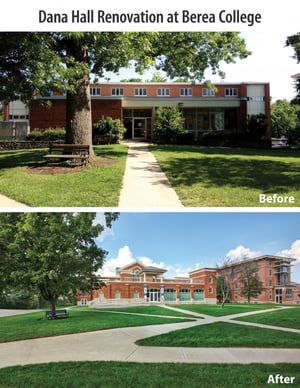 "The goal is to transform the antiquated student housing with something relevant, that addresses the current student's needs." According to Andrew, this involved recognizing the digital needs of the modern college student. "Students bring all their devices – phones, tablets, computers – and we had to accommodate that usage. We had to enable enough Broadband connectivity and try to anticipate what technology was going to look like in five years." Luckett & Farley also updated the heating and cooling system and added LED lighting to each building.

"We also wanted to recognize the need for social interaction among residents. We designed a variety of interactive spaces where this could happen, in addition to study areas and classrooms, to create a living/learning environment."
The renovated dormitories are using automatic sensors on light fixtures and windows and occupancy sensors that turn off lights and HVAC systems. "We are compressing older functions into tighter spaces and adding more efficiency to the units with these new systems.", says Andrew
Their efforts were successful as both halls achieved LEED Gold status rating. LEED- certified buildings are resource efficient, using less water and energy and reducing greenhouse gas emissions. Getting a Gold status rating for a renovated building is a rare accomplishment.
Next up for Luckett & Farley is Berea's library and the Phelps Stokes building, which is home to their main auditorium as well as Women's Studies and African and African American Studies programs.
Major renovations at other campuses
Meanwhile, Indiana's Hanover College is working to get their oldest dorms up to prospective student's expectations. L&F is helping Hanover investigate the feasibility of upgrading residence halls, including toilets, social & learning spaces, new finishes, more efficiency out of heating and cooling systems and ventilation for cost savings, energy efficiency and student comfort.
At Eastern Kentucky University, Luckett & Farley is proposing a replacement for a heating and cooling system that's more responsive to student demand — shifting away from a two-pipe system (where heating and cooling is building-controlled) and moving instead to a four-pipe system (for greater flexibility and customization)."
Innovation that goes beyond floor plans
Luckett & Farley, which has been 100 percent employee-owned since January 2012, advocates for smart design practices and out-of-the-box thinking. On a few projects recently, that have even included using chilled beams, a European system that's low maintenance and provides energy and cost savings. It's a system they may also be implementing at Berea.
For Luckett & Farley, utilizing new technologies doesn't only include building and design — it's relevant to the entire process end to end. One of the most exciting recent
developments is the growing technology for working with clients, especially BIM (building information modeling). With BIM, everything is designed in true 3D. They design and build the facility in the computer first; this allows both Luckett & Farley and the client an opportunity to walk through the facility prior to anything being built, instead of looking at a simple floor plan.
Explore Luckett & Farley's smart designs
Luckett & Farley clients include large universities and small private colleges in locations across the country. To learn more about the firm's expertise in designing and planning educational facilities, email John Whitney at jwhiteney@luckett-farley.com.