When the Hilton Garden Inn & 8UP Elevated Drinkery & Kitchen first opened in downtown Louisville last November the reception was extremely positive. Local Louisvillians were abuzz with praise on everything from the look, to the food, to the drink menu. With Luckett & Farley serving as the interior designers for the project it was great to see everyone's reaction to Louisville's newest hotel and Kentucky's first rooftop bar.
We had a strong interest in the new Hilton Garden Inn from the start since it's only a few blocks away from our office. After some conversations and meetings with a few different folks, we were awarded the interior design contract for the lobby of the hotel and for the eighth floor conference space and restaurant, which would become 8UP.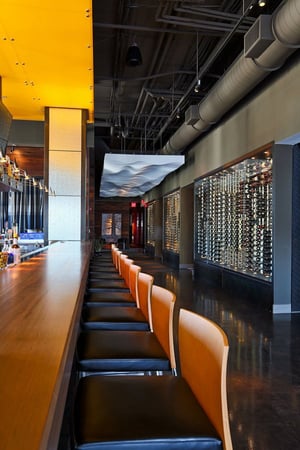 This project was a little different than other hospitality projects we've worked on before. Most hotels have a rigid set of standards for the design team to follow, but the owners had a desire to customize the hotel lobby and eighth floor restaurant to make it unique to the city of Louisville. We were able to take a more custom approach that allowed us to really get creative throughout the spaces.
We did significant research before starting. I traveled with the restaurateur to Chicago, New York, and Atlanta. (In New York we had the opportunity to visit the exclusive Boom Boom Room which is a world famous club that I could have never gotten in to on my own.) We visited several rooftop bars to study how they were able to handle the flow of people and staff, but more importantly, we were able to speak to people with firsthand experience on operating this type of restaurant.
Back at the office, the main challenge we faced was a team of stakeholders spread across the country. We had to rely on different technology to help communicate our design intent. For example, many major decisions were made over Skype and FaceTime. Our team would set all the finish materials up in a conference room and do a FaceTime chat with all the stakeholders. This allowed us to talk about our finishes, show them, point to them, zoom in on them, and then we could have a group discussion. The use of technology made it easy to make big decisions quickly without everyone having to fly across the country, allowing us to streamline a major part of the process.
While most of the stakeholders weren't Kentucky residents, they still wanted this location to acknowledge Louisville's traditional aesthetic in the lobby design while also introducing patrons to what was waiting on the roof, which is a more contemporary and urban space. To maintain "tradition", the lobby flooring has a natural stone "look" which is a nod to Ohio Falls and the limestone rock beds on which our city is built. We included accents of wood at the reception desk as well as a feature wall that also acts as a space divider. These elements bring a warmth to the space while adding to the bourbon country feel.
On the eighth floor was 14,000 SF that had to include a high-end rooftop bar, an elegant restaurant, and a functional, yet cool, conference center. We wanted the conference center to have movable glass walls that would open up the space and give it a more relaxed vibe, while also creating a flexible space to accommodate groups of many sizes.
As for the restaurant, we incorporated high back chairs and sofas to add an acoustical softness to the space. This was important because we have a lot of hard surfaces there as well. Leading to the exterior, we have over-sized garage doors opening into the patio. We wanted the ability to claim the patio space as part of the interior space when weather is nice, it gives patrons a completely different experience. As you walk out onto the patio, you are greeted by fire tables, a beautiful bar that floats in the middle of the patio, and a large expanse of glass rail that overlooks 4th Street Live.
Personally, there are quite a few areas and spots I love throughout the space, including the metal coil and the fire tables on the patio, but as weird as it sounds, the restrooms have my favorite feature. Restrooms are always an area where you can be a little bold and add some pizzazz into a space. We wanted to have a fun way to tell people when a bathroom is occupied. At each individual restroom door there is a "welcome mat" built into the floor. From the public side it is just a white translucent floor tile, but when someone shuts the door and locks it, the translucent floor tile lights up red indicating that restroom is occupied. While it's nothing too crazy, it's just a fun little twist on the green is empty and red is occupied airplane system. Plus it gives guest something to talk about while they wait in line to enhance their experience.
I think the project turned out really nice. We've gotten great feedback from the public, whether it is in magazine articles or on social media. Seeing this type of response always makes us excited. I've even overheard people discussing their favorite piece of furniture or talking about a specific fabric they loved. It's rewarding for our team because we feel like we've put together a space that people appreciate and enjoy, which, at the end of the day, is why we do what we do.