A couple years ago, Luckett & Farley made a shift. New President and CEO, Aric Andrew, led a recommitment to design excellence by creating specialized design studios: Higher Education; Corporate, Commercial, and Hospitality; Government; Industrial; and Distilled Spirits. To realize that vision and best equip our studios for success, we needed a new space that enhanced the collaborative work experience through the latest technology, open spaces, and an energizing aesthetic.
As architects, engineers, and interior designers, we've helped a lot of clients design their own workspaces over the decades, but we know there's not a one-size-fits-all approach to any design situation. We needed a custom solution, and it would take time and work to figure out what our custom solution would be. It's not always easy to devote those resources to your internal projects and give yourself the same due diligence and research we perform for our clients, but we also know that workplace environment plays a significant role in attracting and retaining top talent, which is crucial to any business' success.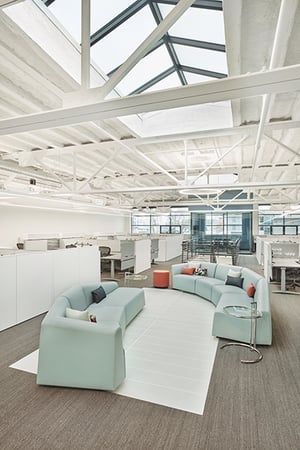 Through a series of meetings and surveys, we collected data on what mattered most to our employee-owners. How do they prefer to work? What distracts them from their work? How often do they need to collaborate? How many people attend their meetings? What kind of technology do they need to be efficient in those meetings?
The data we collected reinforced the importance of not assuming anything when designing, but let the evidence help guide you. We were surprised to find that we didn't need many large meeting rooms, but several smaller ones that could hold about 5 people. And each of these would need computer access to video conference with remote employee-owners and clients.
But we didn't just consult our employee-owners, we did further research on current best practices. We talked to our furniture supplier, an expert in helping their clients (including us!) plan their office environments. To stay competitive with the Louisville hiring market, we read through the results of a local survey about workplace experience. We didn't need to reinvent the wheel, but we did need to know how we could best meet our employee-owners' needs and expectations through design excellence.
Open Office
There is a lot of movement toward and pushback against the open office.
In our profession, the novice/master relationship has always been an important part of our continued education and a collaborative culture is crucial to the success of our firm, so we knew an open office would be the right decision for us.
The open office plan we developed here allows for collaboration between experience levels and disciplines; it improves our designs and develops our people.
As a testament to the benefits of having inter-disciplinary studios, collaboration between our architects and engineers made this easier to achieve as they worked together to hide or clean up the open ceiling tube routing.
For certain tasks people focus better in private, and we wanted our employee-owners to have the space they needed to do their best work. We have several focus booths throughout our space to accommodate this.
In addition to privacy, we want our employee-owners to have ownership over their space. Everyone's workstation has locked drawers, bulletin boards, and adjustable height desks to allow for sitting or standing. As much as we can with our open floor plan, we've allowed for separate temperature controls for different zones and dimmable lights.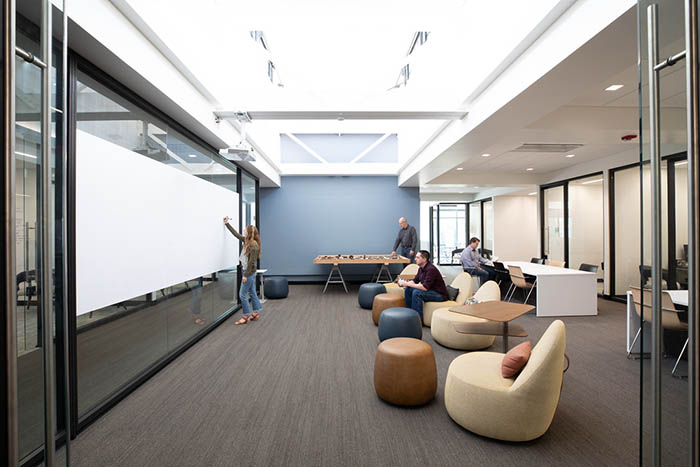 Lighting
"Over a third of employees feel that they don't get enough natural light in their workspace. 47% of employees admit they feel tired or very tired from the absence of natural light or a window at their office, and 43% report feeling gloomy because of the lack of light." (source)
Having an office with a window used to be a sign that you had made it professionally, but we want to democratize the natural light through our space. Large windows and glass walls help the sunshine reach farther into the office. LED lights provide a more pleasant glow than the fluorescent bulbs of the past. The mix of natural and artificial light while maintaining a uniform color temperature allows us to keep our offices bright without introducing glare.
Sustainability
An office remodel is a great time to evaluate what you're doing to create a sustainable office environment and what new technology is available to minimize your footprint. Our plumbing utilizes low flow and high efficiency fixtures surpassing LEED's requirements. The chilled beam system is an old concept but a new technology, which is environmentally efficient while allowing for improved fresh air volume and climate control. All of our systems run off a building management platform so we're able to monitor in real time the performance of everything.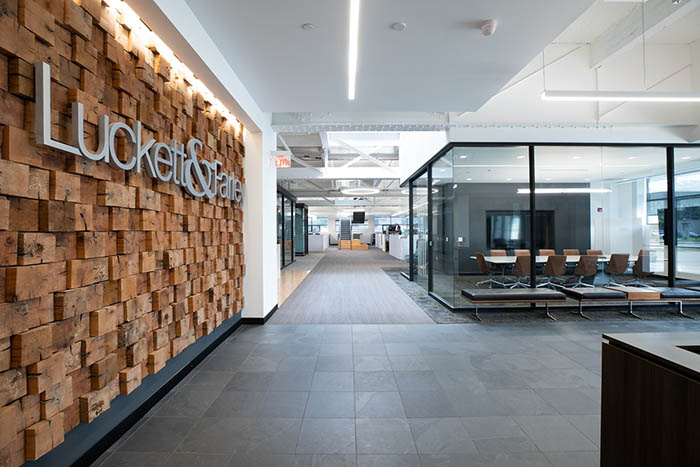 Workplace environment is key to attraction and retention. While renovations or moving offices isn't cheap, ignoring your work spaces can become costly as well. Not sure how to get started? Start by asking yourself these questions.